CUSTOM WEDDING INVITATIONS
Fine Stationery & Letterpress Studio
At Christa Alexandra Designs, we specialize in custom designed Wedding Invitation Suites that we hand print on our 100-year-old letterpress. We are elated to share in an amazing celebration that reminds us how beautiful love is. We congratulate you on your engagement, and we would be honored to play a part in making your wedding day an unforgettable memory.
The creative force behind Christa Alexandra Designs is a talented graphic designer who has found her passion in using her art to make stationery for weddings and other significant life events that are a feast for the senses. Each piece of art produced by her own hands is truly a labor of love.
Christa is inspired by the stories told by the couples that have invited her to add her brand of elegant style to their events with custom designs that capture the emotion and enchantment of the wedding day. Feelings you will experience each time you hold these keepsakes and recapture the memory of that first day.
---
Make a gorgeous
first impression.
---
OUR CUSTOM CLIENT DESIGN PROCESS
Each year we can only take on a limited number of clients for exclusive, custom wedding invitations. As a custom client, you are taken through our design process.

You will have the opportunity to meet with your designer, Christa, at which time you will view samples personally selected for you and have the opportunity to take advantage of her creative eye and experience.
You will have unlimited access to design and etiquette counseling guaranteeing that the design and wording of your wedding suite of invitations will be absolutely error-free.
You will receive perfectly assembled, beautifully detailed invitations that will save you time.
You will receive "grande" sized invitations made with deluxe materials; the substantial weight and rich surface of these works of elegance and craftsmanship will definitely make an impact on your invited guests.
You will also receive a personalized guest list to enable easy tracking of your guests' replies.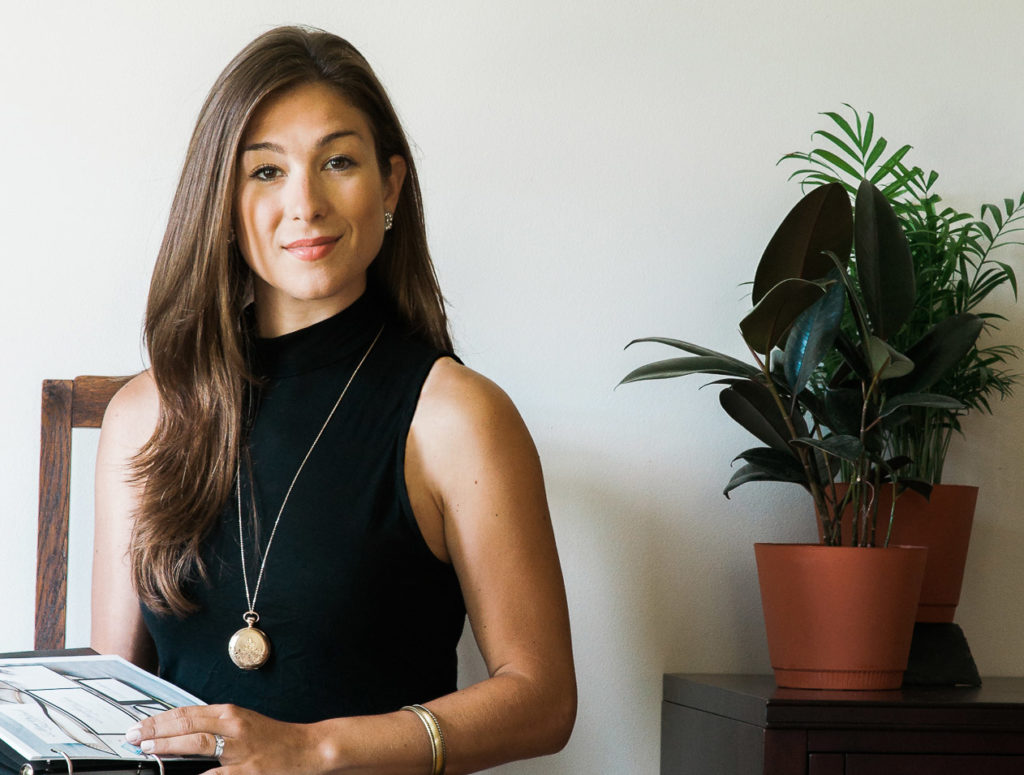 OUR INVITATION SUITE PRICING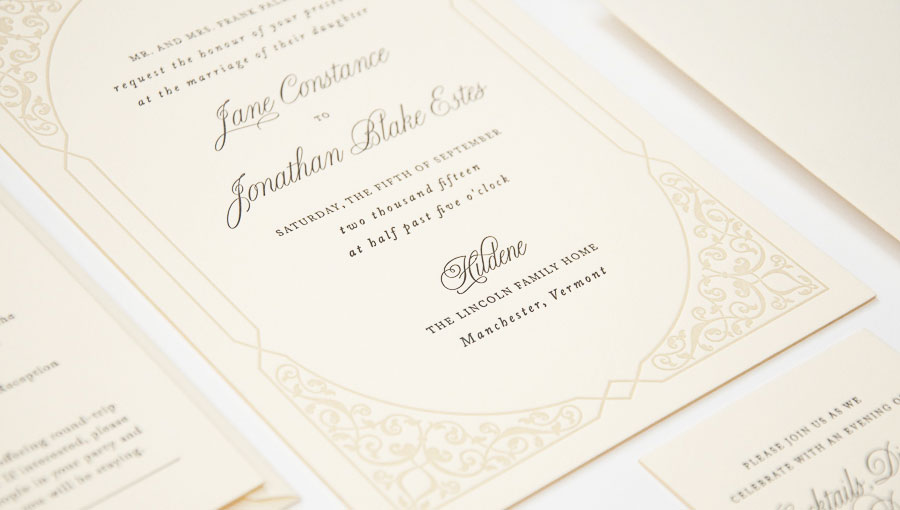 When you hold one of Christa's beautifully produced masterpieces in your hands and run your fingers over the surface, you are taken back to a time when printing was a craft that professionals took time to perfect.
Pricing will be affected by the paper and envelopes you select and the elements of your preferred design. You will also have your choice of a variety of embellishments including envelope liners, insert cards, ribbons, enclosures, calligraphy and extra colors.
This means that the final price is very much within your control. Our custom clients can choose to spend from $5,000 to $15,000 on their custom-designed Wedding Invitation Suite.
OUR WEDDING INVITATION SUITE
A Wedding Invitation Suite typically includes, but is not limited to, the following:
Invitation
Reply Card
Invitation Envelope with Return Address
Reply Card Envelope with Return Address
Embellishments including envelope liners, insert cards, ribbons, enclosures, calligraphy, vintage stamps, wax seals and extra colors
The beauty of custom is that we can create the invitation of your dreams, whether that be out of the box, or in a box. We are excited to work together with you to make a stunning wedding invitation that truly pique's your guest's interest.
We also offer additional materials for your wedding day, designed using the same theme as your custom-designed Wedding Invitation Suite for an additional cost:
Programs
Menus
Escort or Place Cards
Posters or Signage
Welcome Bag Notes
Weekend Itineraries
Custom Maps
Thank You Notes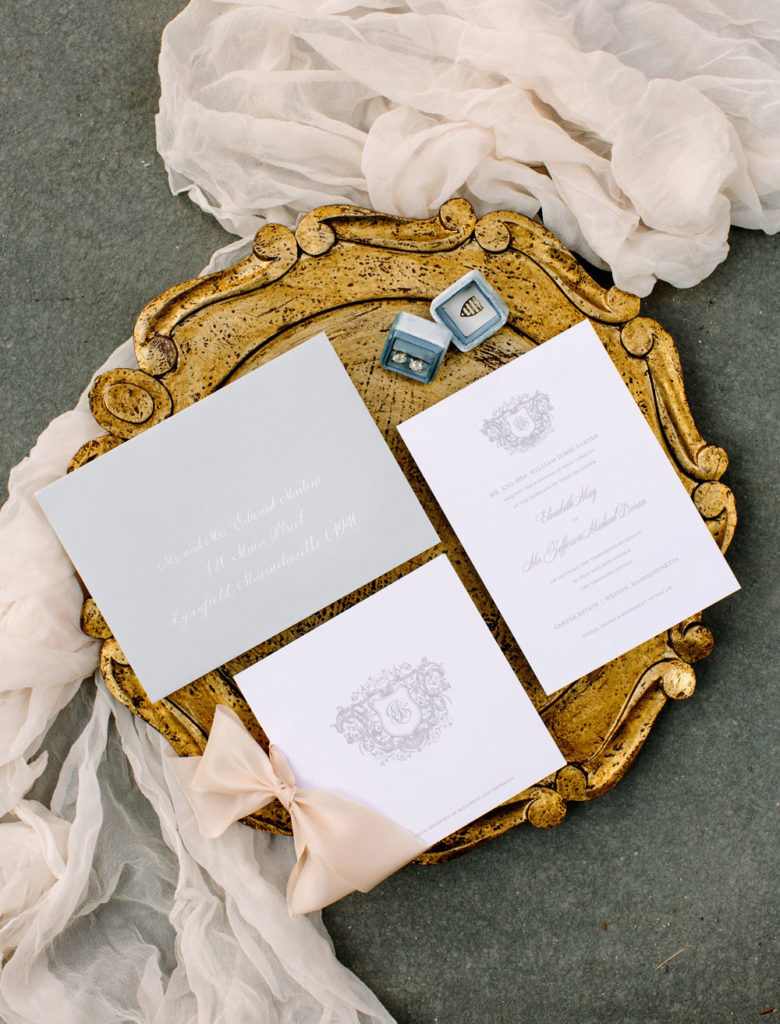 We encourage our clients to begin the process of selecting and designing their invitations as early as 5-9 months prior to the wedding to ensure enough time for the creative process, and to ensure that your invitations are ready to be sent out 2 months before the wedding date.
Contact Christa via email at christa@christaalexandra.com or submit the Custom Invitation Inquiry form below. We will schedule a complimentary phone call to discuss your wedding, stationery needs, and preferred type of printing to determine if we are a good match for one another.
We send you an estimate.
Upon your approval of the estimate, a signed contract and a 50% deposit is needed to begin the design process.
A personalized timeline is sent to you outlining what to expect over the coming months.
Design samples are emailed to you and paper samples are sent by mail. We then collaboratively modify the design until you are satisfied, with no limit on revisions.
All materials are ordered and the invitation suite is printed. Each individual item is reviewing after printing to ensure there are no imperfections.
We assemble and wrap your invitations for shipping to you. Your Custom Wedding Invitation Suite arrives in plenty of time for mailing.
Alternatively, for an additional cost, we can mail the invitations on your behalf.
OUR COMMITMENT TO YOUR SATISFACTION
Knowing the deeper significance of each custom-designed wedding invitation, Christa Alexandra Designs strives for perfection each and every time. You can rest assured that you are in the best of hands.  We are committed to providing you a stellar customer service experience and a truly amazing product that you will remember as one of the best parts of your wedding. There are no shortcuts. Christa will work with you every step of the way to create a clear timeline for the stationery, decide the wedding invitation wording, and select the most suitable paper and envelopes. We spend hours designing, and our commitment to your satisfaction is absolute; Christa prepares multiple invitation samples for you to view as you make your final decision and there are no limits on revisions. With precise attention to detail, we ensure that every item from your guest list to the etiquette of the invitation wording is error-free and a true reflection of your vision! Contact us today to get started at christa@christaalexandra.com or submit the Custom Invitation Inquiry form below.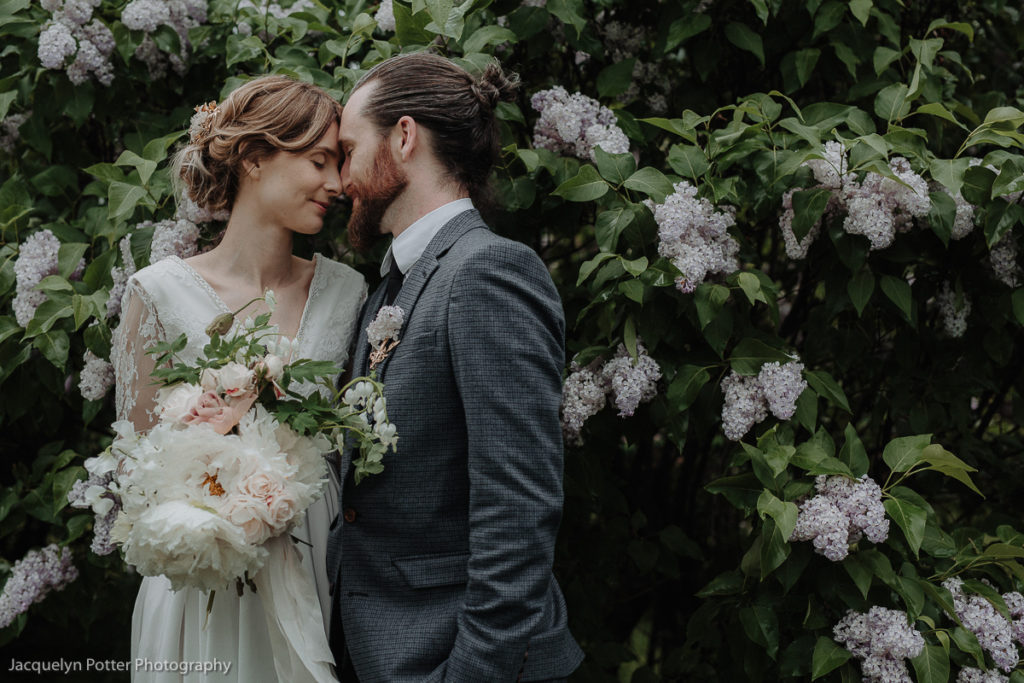 I looked through books and books of invitations and met with different invitation designers in NYC. No one could help me find something that seemed to fit the wedding weekend we were planning. Christa knew all the right questions to ask and very quickly after that conversation she presented me with these stunning invitations. Working with Christa has really been a dream and she is so easy to communicate with.

Laura G. from NYC | Bride
We went to Boston, Chicago, San Francisco & Washington D.C., thinking only big cities would have what we were looking for. Our Daughter and son-in-law met with her after our phone conversation, they were so impressed with the work of her creative mind, talented hands and extraordinary vision. She helped choose the perfect calligraphy font, ink color and stamps and YES, our guests noticed each and every detail.

Mimi W. from Lyme, NH / Mother of Bride
Christa is absolutely wonderful to work with and she is very talented. I had looked at local shops and online for my wedding invitations and had a really hard time finding something that pulled my ideas together. After a phone conversation with Christa, I had a number of mock-ups for invitations. I got so many comments on Christa's work – even my calligrapher who said "it was the most beautiful invitation suite" she had seen!
Sara W. from Lyme, MA / Bride