When no other invitation will do, a one-of-a-kind couture design will set the tone long before your guests arrive. Each year we take on a limited number of clients for exclusively custom wedding invitations.
Custom invitations are created with the couple, the wedding and the details in mind. We spend hours designing – with no limits on revisions, and making sure every detail from the guest list to the etiquette of the invitation wording is correct. Custom clients receive:
Perfectly assembled invitations that save you time and look beautiful

Larger "Grande" sized invitations made with the very best materials and double thick paper that will impress your guests as soon as they open them
Complimentary meeting with Christa to make it easier for you to see samples up close and meet your designer in person
Unlimited design and etiquette counseling so you have the peace of mind that the design and wording will be absolutely right
Special document catered to your list to mark guests' replies to make it simple for you to keep track of everyone
Over the course of a few months, Christa, of Christa Alexandra Designs, will work with you every step of the way—from creating a timeline for the stationery, deciding the wedding invitation wording, which paper and envelopes to choose, to preparing multiple invitation mockups. Many couples feel that after working through the invitations with Christa, they are more at ease and prepared for the wedding because all the significant decisions needed are made when designing the invites. Our promise is to find a creative and beautiful way to incorporate your theme and vision into heirloom quality stationery that you will hold on to long after the day has passed.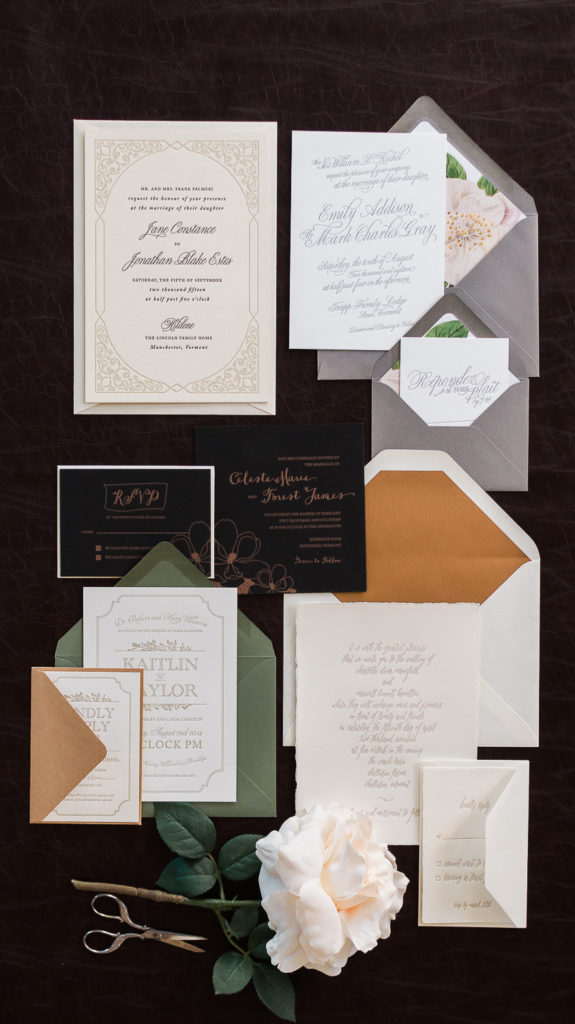 Generally invitations are sent out 2 months before the wedding date. We encourage our clients to inquire as early as possible to ensure there is enough availability and time allowed for the creative process. The most common timeline begins 6-9 months prior to the wedding.
1.   Contact Christa directly or submit the Custom Invitation Inquiry form below – we will schedule a complimentary phone call to discuss your wedding, stationery needs, preferred type of printing and determine if we are a good match for one another.
2.   An estimate is sent. Upon approving your estimate, a signed contract and a 50% deposit is needed to begin the design process.
3.   A personalized timeline is emailed outlining what to expect over the coming months.
4.   Design mockups are emailed to you and paper samples are mailed. We then collaboratively modify until it is perfect — with no limit on revisions.
5.   All materials are ordered and the invitation suite is printed. After reviewing each piece we assemble and wrap your invitation for shipping. Your invitation suite arrives with plenty of time to mail them to your guests. Alternatively, we can also mail the invitations on your behalf.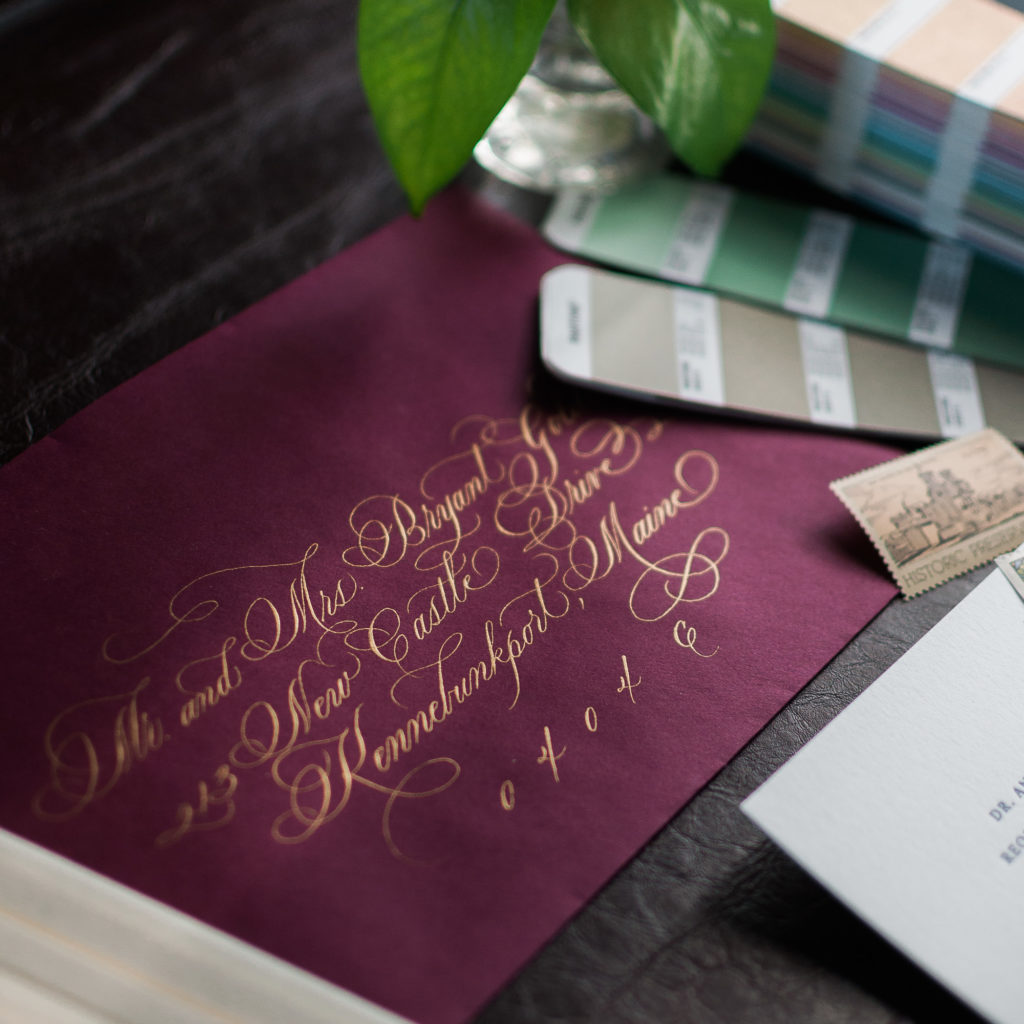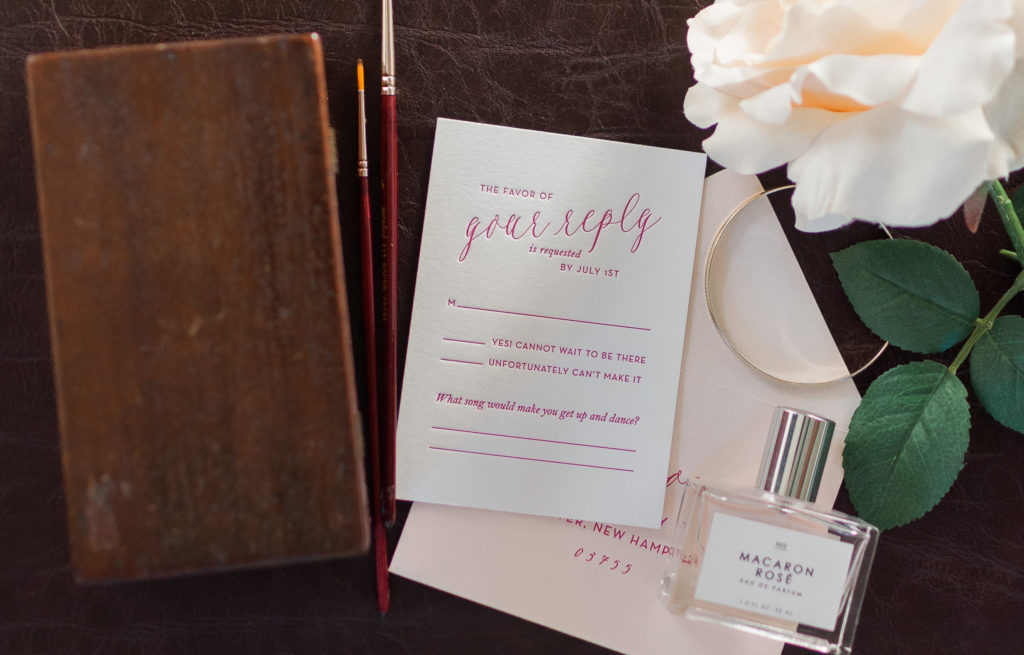 A typical Wedding Invitation Suite starts with the following: Invitation, Invitation Envelope with Return Address, Reply Card and Reply Card Envelope with Return Address. A variety of embellishments are commonly added to the suite – such as envelope liners, insert cards, ribbons, enclosures, calligraphy and extra colors. Our custom clients often spend between $5,000 and $15,000 on the stationery for their wedding.
Additional materials for the day of the wedding, such as escort cards, programs, menus, weekend itineraries and thank you notes can be designed with the same theme as the invitation suite for an additional cost, pricing varies depending upon your needs.