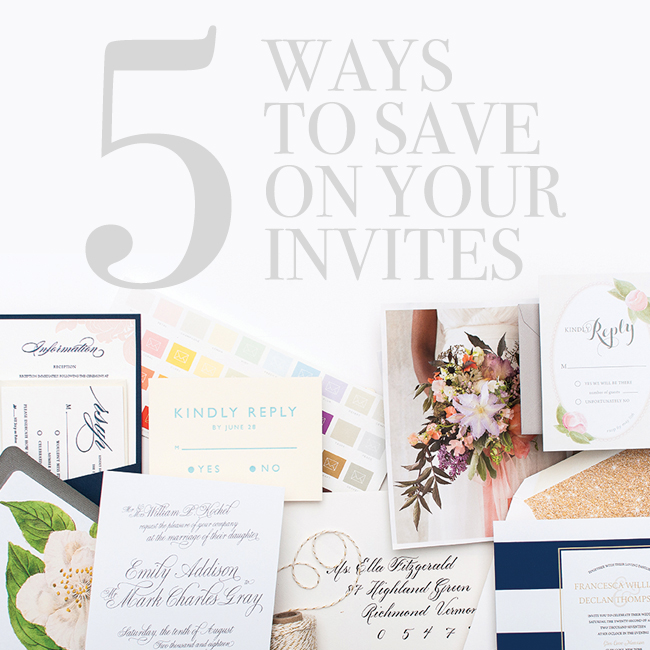 1. Type of Printing: Flat or Digital Printing is the most economical of all the printing methods. Flat printing produces a high-quality image with no texture or shine. Colors are virtually unlimited, and full color coverage is possible. Letterpress and foil printing will cost more.
2. Sweet and Simple: Can't get over how lovely letterpress is the only way to go but you'd still like to keep costs down? With letterpress, each new color adds more time to the job, unlike flat or digital printing, a letterpress only prints one color at a time. That second or third color can double or triple the time it takes to print it, adding to the bottom line. Stick to one color for letterpress invitations and they'll be more affordable.
3. Print your Proof: Most proofs are free and included in your invitation order, however if they aren't, spending the extra couple dollars can save you later on. When you get it, print it out and wait a day before you look at it. For some reason, reading on the screen combined with looking at something for too long, makes us prone to missing things. Read each line backwards, from right to left — your eyes will find misspellings easier. Better yet, get a second set of eyes to read it as well. Reprints can be expensive.
4. Paper Thickness: When there's a choice, choose the lighter weight paper. While double-thick papers are luxurious and quite impressive, they can bulk up the price as well. If you're not sure whether there are other options, ask your stationer – they should be happy to help.
5. Stamp your Return Address: If it's not in the cards to have the stationer print your return address on the invitation envelope and reply card envelope, order one inexpensive custom stamp for both addresses. The best part about this is, if you're not moving too soon, you can keep the stamp and use it for your mail after the wedding!
BONUS: Find a wedding invitation company who'll work with you to customize the design at no extra cost! We pride ourselves on lots of options and the very best personalized service! Check out our customization options here.
Photo Credit: Floral bouquet picture from Martha Stewart Weddings magazine